Most of the theories of leadership, management, and performance can be summarized around three themes or questions.
Do people know what to do? – Alignment

Do they know how to do it? – Development

Do they want to do it? – Motivation
The process of setting and attaining goals has five steps. The first two, Setting Strategy and Setting Goals, help you address alignment – "do people know what to do." The other three steps, Tracking Goal Performance, Providing Feedback, and Managing Goal Performance, guide the development – "how to do it" and along the way creating the motivation and commitment to reach these goals– "do they want to do it."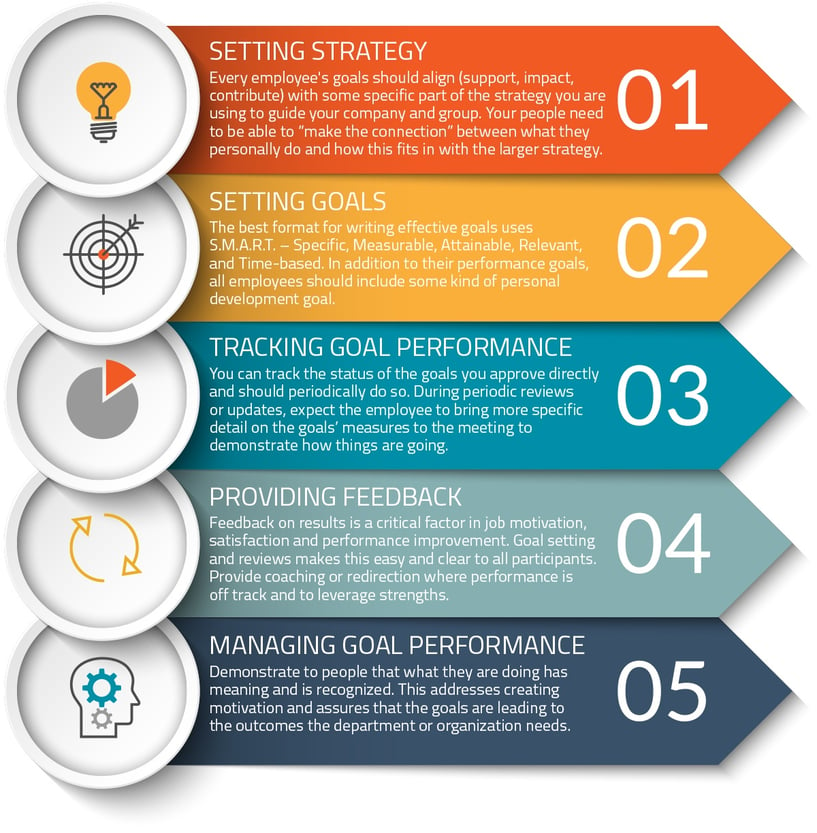 [Click on the image to download the full infographic.]
When you have a Business Strategy that you believe in, that has a rich collection of targets and measures, then you are ready to drive for implementation and achievement.
In order to achieve or even surpass targets, you must mobilize all the talent you have in your group or organization. Effective management through goals is the most powerful way known to manage your future and the opportunities it can bring. You do this by insuring your people know what to do, know how to do it, and have a desire to succeed.
At ThinkWise, our goal is to provide you with the necessary resources to make smart Employee Development decisions. Below is a link to the full report: 5 Steps To Effective Management Through Goals. This guide will provide detailed information to help you understand more about aligning and attaining your goals.